Blaze of Lights
Blaze of Lights
Saturday, November 25, 2023 (4:00 PM - 9:00 PM) (EST)
Description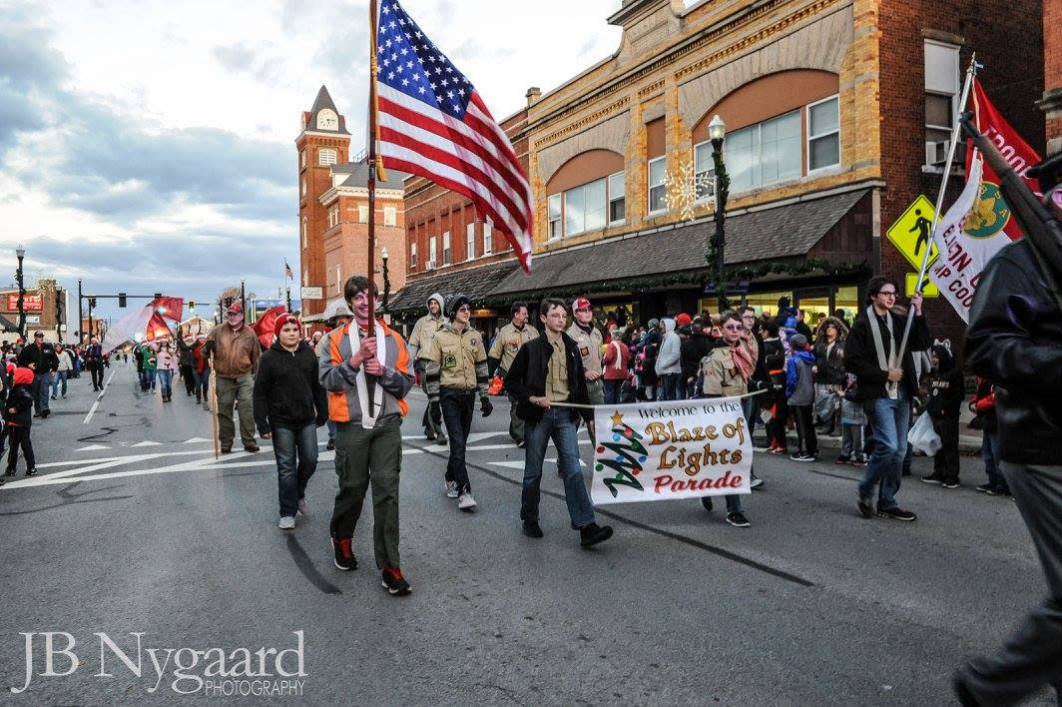 In 1938, Harry Ream and his wife Dorothy started making and displaying folk art Christmas decorations at their home. In the mid-1980s, the Ream family donated 168 wood cutouts to the Village of Bluffton, OH.
The Blaze of Lights Festival celebrates Christmas in the Village with a lighted display of vintage Christmas folk art from the Ream collection, The display, located on the lawn of Bluffton Presbyterian Church is lit on the Saturday after Thanksgiving as part of the festival.
The festival features a parade, live entertainment from the schools and community, Santa, trolley rides through decorated neighborhoods, entertainment for children and adults, and the lighting of the Ream Display. Families join in the Blaze spirit with holiday decorations including Ream-style cutout figures.
The Blaze of Lights is a tradition of more than 35 years in the making. It is the work of the Bluffton Area Chamber of Commerce, the Village of Bluffton, and countless volunteers.
The date is also Shop Small Saturday, a day to show your appreciation for local, independent businesses. It is a perfect time to enjoy Bluffton's restaurants, shops, movie theater and special Blaze offerings.
Blaze of Lights decorations shine throughout December and are just 2 minutes from I-75 at exits 140 and 142. Sponsored by the Bluffton Area Chamber of Commerce.
Sponsors
Platinum Sponsor
Gold Sponsor
Lambert General Contracting LLC
Silver Sponsor
Tyler Sutton State Farm Insurance
Ruby Sponsor
Ohio Means Jobs Allen County
SAMUEL W. DILLER Co., L.P.A.
General Sponsor
Bluffton Auto Repair Center
ED REICHENBACH STATE FARM
NORTHWEST PHYSICAL THERAPY
Schroeder, Blankemeyer and Clinton, LLC
Host Sponsor
Trolley Sponsor
Railroad Sponsor
GROB SYSTEMS
Images
Downtown Bluffton

Saturday, November 25, 2023 (4:00 PM - 9:00 PM) (EST)